SR05C
Lift with base for easier installation on low quality floor
stabilising feet at the base of the posts
width between posts 2500mm
min. pad height of 95mm
two stage short arms
high resistance chain transmission
pre-tensioned chain with safety device
SR45E
Baseless lift, allows easy access into the working area. Three-stage short arms and two-stage long arms provide asymmetric lifting of vans and off-road vehicles-width between posts 2650 mm.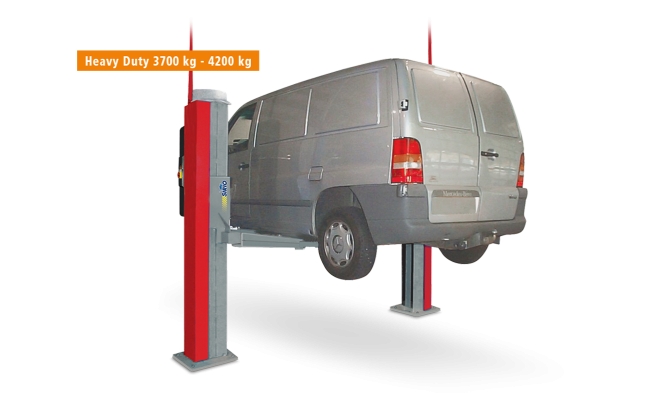 SRI
Lift with adjustable platforms

 
Electro-hydraulic lifts designed for recessed installation
Perfect synchronization between cylinders regardless of load distribution
Mechanical locking device with automatic engagement and pneumatic release, ensuring maximum safety when lift is in standing position
Self-controlled lowering speed
All mechanical, hydraulic and electrical components manufactured in compliance with the respective European Safety Standard
SRM98H
Modular electrical systems enable alterations to be made to configuration (e.g. passing 4 to 6 to 8 columns or creating two set s of 4 columns by splitting a set of 8 columns).
Mechanical and electrical safety devices comply with European Safety Regulations.
Thermal protection against overload of motors.
Emergency stop button with self retainer on all columns.
Electro-hyrdraulic operating lifts
Equipped with safety valve to prevent overloading and in case of hydraulic pipe fracture
Self-controlled lowering speed
Mechanical safety latch with automatic engagement and hydraulic release ensuring maximum safety when lift is in parking position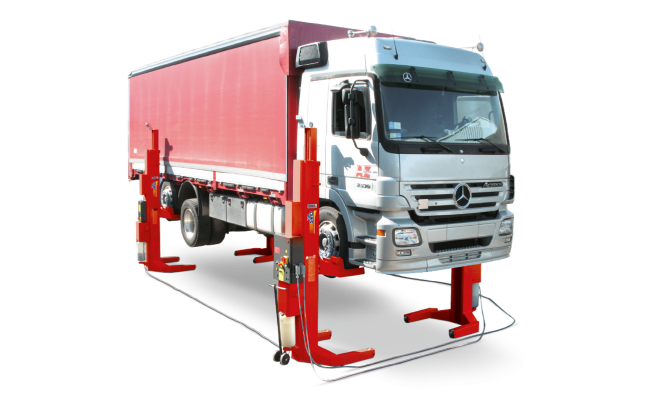 SRQ 40NE
Electro-mechanical 4 post lifts. The platform length and the capacity of these lifts make them ideal for busses and trucks.
The motors are inter-connected mechanically by line shafting and bevel gear boxes in oil bath to ensure the perfect level of the platforms and balanced load on motors regardless of vehicle position. OnIy one adjustment is made during the installation, never during operation as there are no parts subject to yielding or lengthening such as cables and load bearing chains.
Automatic lubricati on of main and safety nuts and spindles is achieved by a plunger pump, one in each column, which ensures positive lubrication every time the lift is raised thus ensuring long life and smooth running.
Main and safety nut assembly.
A safety switch automatically stops motion should the lift encounter a solid obstacle during lowering.
Vi forhandler alle maskiner fra Sirio's sortiment, så fandt du ikke, hvad du søgte, så klik ind på Sirio's hjemmeside her >>

Ring gerne til os, for mere information
T: +45 56 27 44 12